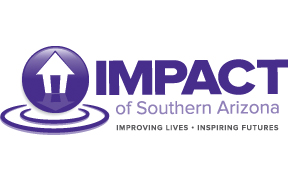 IMPACT of Southern Arizona is a nonprofit organization committed to improving lives and inspiring futures by bringing community together. We serve low to moderate income families and individuals of all ages, by providing programs designed to bridge the gap when emergency food and clothing assistance is needed, to stretch budgets, and to help people become self-sufficient.  IMPACT is able to keep administrative costs below 5%, by operating with limited, professional staff who manages a vast number of dedicated volunteers, allowing 100% of donors' dollars to fund programs.
IMPACT's success is due to the creation and development of key partnerships with volunteers, donors, clubs, businesses and agencies;
and the support of generous community members like you.