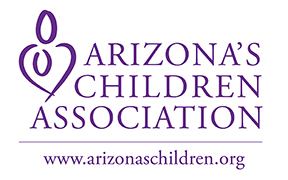 Arizona's Children Association is the best resource for helping children and families in Southern Arizona and across the state.  Our mission is to protect children, empower youth and strengthen families.  Founded in 1912, we are now one of the oldest and largest statewide child welfare and behavioral health nonprofit agencies in Arizona. Our programs serve more than 42,000 children, individuals and families in all 15 counties of the state each year.
Our programs include: Foster Care & Adoption, Behavioral Health & Trauma/Crisis Response, Family Preservation & Reunification,
Kinship Services, Parenting Education, and Transitional Living Services.
Seventeen years old and living with a very angry and abusive father, Kellie was kicked out of her home for suspected drug use. Her parent's are divorced, her father refuses to speak to her still, and she has had little contact with her birth mother since the age of 13. With nowhere else to go, Kellie went to live with her grandmother. The Department of Child Safety (DPS) referred Kellie to Arizona's Children Association. When we met Kellie, she had a tremendous amount of anger built up inside. In addition to her emotional troubles, Kellie's unexpressed anger was also causing real physical problems. She suffered from headaches, stomach problems and a number of other ailments. With the help of her therapist and grandparents, Kellie has been able to work through a lot of the anger towards her father and has overcome a lot. She has learned some anger management techniques to help her express her feelings, but in positive, productive ways. She has maintained steady part-time employment, has her own car, and is a member of a car club. This is where Kellie says she has her most true friends. Kellie graduated from high school a year ahead of schedule earning straight A's. Kellie has been able to forgive her father for forcing her out of her home, and to forgive herself for what occurred between them, though she has no plans to return home. Kellie will be participating in the Independent Living program with CPS, and has enrolled in College for the fall. She plans to study either Social Work or Business. These emotional breakthroughs have eliminated all of Kellie's physical problems. She is on the path to a very successful future.