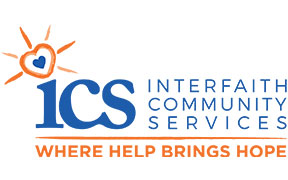 Since 1985, Interfaith Community Services (ICS) has helped seniors, disabled adults and families in financial crisis achieve stable, healthy and independent lives. ICS enables children and adults in poverty to stabilize, meet urgent basic needs and gain self-sufficiency through the ICS Food Banks, emergency financial assistance, case management and job search assistance programs. We also support senior and disabled adults to live independently with dignity at home through Mobile Meals, transportation, home repairs and wellness checks.
Rated four stars by Charity Navigator for its financial health and transparency, ICS brings together 750 volunteers, 93 faith community partners and caring people throughout our community to help the most vulnerable residents in Pima County lead their best and healthiest lives.
Our Name Tells Our Story Interfaith We share a common belief that our diverse faiths call us to serve those in need. Our programs and volunteer opportunities are open to all regardless of faith tradition. We remain true to our founding value of helping all those in need with "Love, Cooperation and Service." Community We operate on a unique model that connects people who care with people in need. Our programs, volunteers and supporters extend throughout Pima County. Our partners represent the full community: individuals, agencies, corporations, foundations, City of Tucson, Pima County and the faith communities. Services We Offer A Wide Variety Of Services That Are Often The "Safety Net" That Helps Our Recipients Remain Or Become Stabilized, Enabling Them To Lead Independent Lives. From Small To Large, These Services Make A Difference In The Lives Of Those We Serve, Supporting A Healthier, More Stable Community.